Message from Director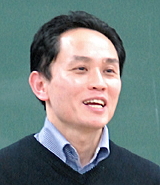 Professor
Kazuhiro SUGIMOTO
The Center for Institutional Research (CIR) came into being as one of 11 centers under the Institute for Excellence in Higher Education (IEHE) in April 2014.
 In Japanese higher education, institutional research has gained momentum in recent years. Institutional research means the collection and analysis of various data within university and its translation into meaningful information in order to support decision making on university management and promote education and research. It puts an emphasis on evidence in university management. Although this doesn't necessarily mean underestimating the significance of decision making based on experience or intuition, the rapidly changing environments inside and outside university require us to tackle issues presenting and sharing evidence with those concerned as far as possible.
 In fact, we have always committed to institutional research within Tohoku University. To name a few, the Evaluation Analysis Office of Tohoku University has been conducted an annual Faculty Evaluation, by which it has assessed performance at each faculty though collecting internal data on education and research and translating it into some KPIs. The Educational Information and Improvement Committee, under the Academic Council, has played a significant role
 in improving general education by utilizing course evaluation results and grade results. In addition, the Institutional Research Office, which was founded at Katahira Campus in January 2016, will lead to the strategic development and strengthening of Tohoku University's policies and activities. Institutional research has come to the expansionary phase at Tohoku University.
 In this context, our mission is to promote the collection and analysis of data on teaching and learning at Tohoku University and support the quality improvement of related activities and environments. We have launched our original site with our second anniversary in April 2016, in which our activities will be introduced. At the same time, we have been already facing new challenges. One of them is related to translating data into meaningful information and thereby promoting the support leading to robust quality assurance and improvement of teaching and learning at Tohoku University. We hope we will address our challenges by taking advice and support from those concerned.
Thank you very much for your cooperation.